MVLE Moves!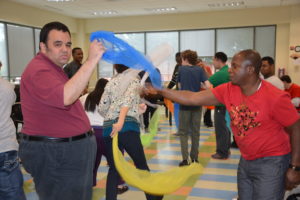 MVLE Moves! is a collaboration between MVLE and BodyWise Dance that is currently being offered at all three of MVLE's Community Centers for MVLE individuals and staff. This program will achieve powerful physical, social and emotional benefits for staff and clients.  Additionally, the program will 'bring the inside out and the outside in,' creating new and dynamic community engagement opportunities.
New for 2017– Professional choreographer and director, Margot Greenlee will collaborate with clients and staff to create and perform 'Everyday Oz.' With references to 'The Wiz,' this work will be a joyful exploration of individual resilience and agile teamwork as they meet the challenges of everyday life. Cast members will include both professional performers and MVLE clients. 'Everyday Oz' will be performed at each of the three MVLE Community Centers and then tour to four local partner venues including the Fairfax County Government Building and the John F. Kennedy Center for the Performing Arts. See details on performance dates below.
The 'Everyday Oz' performance funded in partnership with the National Endowment for the Arts Challenge America grant program.

'Everday Oz' Performance Schedule:
*All performances are free of charge and open to the public. We do ask that you still register online so we know who will be joining us. To register, please follow the link underneath each date.
April 4, 2017 – 11:00am
MVLE Community Center – 7400 Fullerton Road, Springfield VA
Register- https://www.eventbrite.com/e/everyday-oz-tickets-32541086265
April 11, 2017 – 11:00am
MVLE Business Center- 7420 Fullerton Road, Springfield VA
Register-  https://www.eventbrite.com/e/everyday-oz-mvle-business-center-tickets-32541249754
April 25, 2017 – 11:00am
MVLE Community Center- 3855 Centerview Drive, Chantilly VA
Register- https://www.eventbrite.com/e/everyday-oz-mvle-chantilly-community-center-tickets-32541274829
May 1, 2017 – 11:30am
Fairfax County Government Building, Fairfax VA
Register- https://www.eventbrite.com/e/everyday-oz-fairfax-county-government-center-tickets-32541400204
May 16, 2017 – 11:00am
Ft. Belvoir USO Family Center- 5940 9th St, Fort Belvoir VA
Register- https://www.eventbrite.com/e/everyday-oz-uso-warrior-and-family-center-tickets-32541441327
May 21, 2017 – 6:00pm
The Kennedy Center, Millennium Stage- 2700 F St NW, Washington, DC
Register- https://www.eventbrite.com/e/everyday-oz-the-kennedy-center-tickets-32541520564